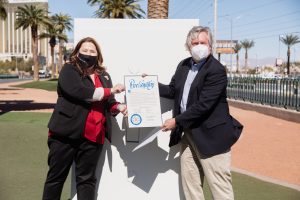 The Junior League of Las Vegas serves the community through the effective action and leadership of trained volunteers. Like the glowing neon lights that make up our city, JLLV's members illuminate its purpose and form a meaningful pattern when they come together for a shared purpose – building a better community.
Look closely and you will see JLLV volunteers at work in community projects providing educational and cultural enrichment to homeless youth, providing education grants to local teachers, working to alleviate hunger, mentoring high school students to reach their fashion career goals and adopting families during the holidays. Through its volunteers, leveraged with financial support and innovative collaborations, JLLV identifies and addresses the needs of the community every day, leaving a legacy that can be appreciated for generations to come.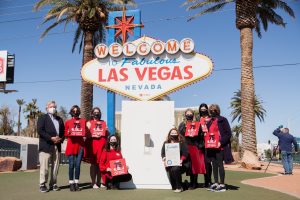 As JLLV celebrates its 75th year of service, you are invited to invest in JLLV's future and programs. We believe in building strong partnerships that foster the growth and well-being of our ever-changing community. The JLLV is committed to shaping the future and we believe in making what is thought to be the impossible a reality, while training women in leadership, project management and networking.
JLLV will celebrate its milestone with a combination of events, volunteer efforts, community partnerships, and ongoing initiatives throughout 2021.