You're Invited to Junior League of Las Vegas' 18th Annual Paint the Town Red Gala!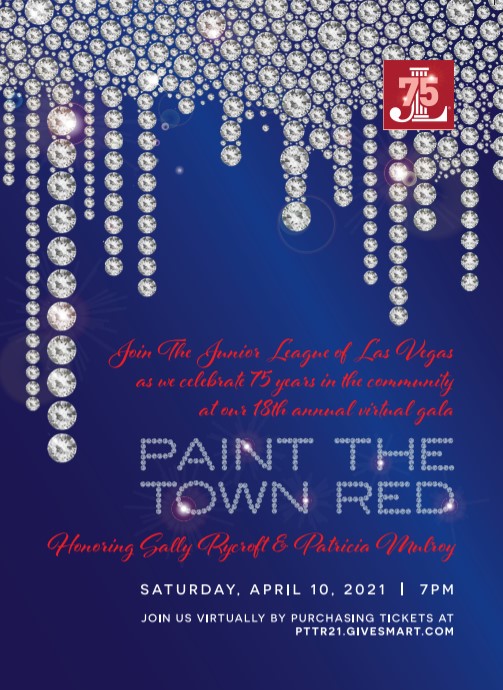 As our largest fundraiser of the year, your support goes back into the community, funding JLLV programs like HELP of Southern Nevada's Shannon West Homeless Youth Center, Immunize Nevada and Discovery Children's Museum.
The Junior League of Las Vegas will host its 18th annual fundraising gala virtually on Saturday, April 10, 2021. We will continue to honor Sally Rycroft as the recipient of the Lifetime Community Achievement Award and Pat Mulroy as the recipient of the Florence Lee Jones Humanitarian Award. We are thrilled to recognize the outstanding contributions each honoree has made to our community.
Tickets start at $125.
Tickets and sponsorships to this unforgettable evening are available HERE
SALLY RYCROFT – Lifetime Community Achievement Award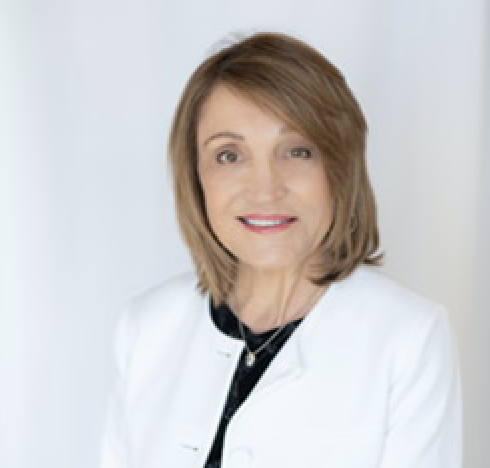 Sally is an educator and commercial broker/ saleswoman who has embraced volunteerism.
Sally came to Nevada in 1969 and secured a secondary teaching position with the Clark County School District. Over the next 25 years, she taught US History and government at Clark and Bonanza High Schools. As the Bonanza Social Studies chairwoman, she became very active in the Advanced Placement Program helping her secondary students obtain US History college credit. Her success, in part, led to her inclusion in Who's Who in American Education in 1994 and 1996. In 1989, she was recognized by CCSD for her contribution to Excellence in Education.
Sally did a career change becoming a full time commercial broker/saleswoman in 1995. In 2002, with other real estate agents, she helped to found Clifford Commercial Real Estate. Today she is a Senior Vice President with First Commercial Real Estate Services.
Sally joined the Junior League of Las Vegas in 1997. As a teacher, she was happy to volunteer her time to benefit educational groups and student organizations. In Junior League, Sally found she was equally able to donate her time and talents to the community and has never looked back.
While an Active, Sally served on the JLLV Board of Directors. The league did not have a gala fundraiser and with a limited budget, her council decided to host a Celebrity Waiter Dinner event. A few years later, the Junior League Board decided to go formal and honor long time member, Thalia Dondero, at her Celebrity Dinner. In 2004, this dinner fundraiser was renamed Paint The Town Red.
As the Endowment chair, Sally led the effort to have the Morelli House (the JLLV headquarters) placed on the National Register of Historic Places. This undertaking had to go through the State Historic Preservation Office (SHPO) and it took two application submittals and much time since the building had been moved in violation of National Register requirements. Sally still clearly remembers the day (June 3,2012) when she was notified that the Morelli House had been successfully listed.
Sally's Sustainer positions: Endowment board trustee and chairwoman (2 years), 2008-2014; Sustainer JLLV President, 2013-2015; holiday coffee co-chair, 2015-2019; Sustainer Board, 2007-2019. Currently, she is on the Morelli House Public Program committee and each year she serves as a sustaining advisor to a JLLV committee.
Sally has been a board member of the Better Business Bureau of Southern Nevada since 1996, proudly helping to promote this non profit group's mission to advance marketplace trust in Las Vegas. She served as the BBBSN board chairwoman, 2003-2004. Afterwards, Sally served four years as a board director on what is today called the International Association of Better Business Bureaus (IABBB), headquartered in Arlington, Va. She has sat on the local board's executive committee for ten years.
Other volunteer groups Sally has participated in include Las Vegas Chefs for Kids, March of Dimes, and in 1988-1989 she served as the project director of the Jefferson Town Meetings, hosted by the National Council of Christian and Jews. In 2007, the Rycroft's built a second home up in Port Angeles, WA where Sally served 10 years as director on the local board of the American Red Cross and was a member of Kiwanis. She recently joined Desert Sage, an auxiliary of the Assistance League.
Sally attended Santa Clara University and the University of Arizona receiving a Bachelor of Arts in Education. She received her Master of Arts, History, from the University of Nevada Las Vegas.
Sally is happily married to Gordon Rycroft, who has been very supportive of all her league and community efforts. He is retired from American Airlines and now serves as president of their investment corporation, G&S Holdings. Daughter Kara Manqueros and her husband Ken have blessed Sally and Gordon with three grandchildren: Matthew, Tyler and Meghan.
PAT MULROY – Florence Lee Jones Humanitarian Award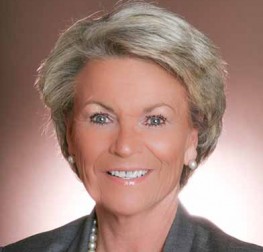 Pat's life in Nevada didn't begin until she was in her early 20's when she left her home in Germany after accepting a scholarship from UNLV. Pat had been studying in Munich for three years and was completing her Junior year at the University of Munich, when quite unexpectedly she received a phone call from the Dean of Arts and Letters at UNLV, who had heard of her work from an associate, offering her a full scholarship for her Senior year and a guaranteed Teaching Assistantship to pursue her Master's degree. Since she was a natural born citizen of the United States and had always dreamt of living here, she quickly accepted the offer. On August 24, 1974, she boarded an airplane and headed towards the glitz and lights of Las Vegas. This is where her Las Vegas adventure began.
After receiving both her Bachelor's and Master's degrees from UNLV and then pursuing doctoral studies at Stanford University, Pat returned to Las Vegas, which had become her home. Her career in government service began in the Clark County Manager's Office where she joined the government affairs team and represented the County during various legislative sessions. From the County Manager's Office her path lead her to Justice Court, where at the request of the judges, she penned the legislation creating the position of Justice Court Administrator in state law and then subsequently serving as the County's first Justice Court Administrator. In 1985 she was offered the opportunity to become the Deputy General Manager for Administration for the Las Vegas Valley Water District. Little did she expect that this would launch an almost 30 year career in the water sector. Four years after joining the District, Pat became the agency's General Manager during a period of unprecedented growth in Southern Nevada and heightened tensions around water resources between the various jurisdictions. To overcome those tensions and forge a common path forward for the region, the local entities created the Southern Nevada Water Authority … an organization of which Pat was a principal architect. Shortly after its creation, she became the General Manager of the SNWA as well, serving in both capacities until her retirement in 2014.
The decades during which Pat oversaw the Authority were some of the most challenging in Southern Nevada's water history. The era saw a period of exponential growth; the worst drought of the century on the Colorado River and one of the most devastating financial downturns. Through it all the Authority was able to assure Southern Nevada's viability as a community and avoid economic disruptions caused by lacking water resources. During her tenure she led Nevada's delegation in the negotiation of numerous agreements with neighboring Colorado River Basin States and the Country of Mexico. Under her watch the Authority launched the most successful urban water conservation program in the country shaving billions of gallons off the community's water use and built billions of dollars of infrastructure ensuring the areas water reliability.
Pat's reach in the water sector extends far beyond the desert southwest. Nationally she has served on the board and was Treasurer of the Water Research Foundation and still serves as a member emeritus. She was the original Chairperson of the Western Urban Water Coalition and founding member of the Water Utility Climate Alliance. She was the first woman to serve as President of the Association of Metropolitan Water Agencies and served on the Boards of the National Water Resources Association and the Colorado River Water Users Association.
Since her retirement in 2014, Pat has stayed extremely active in the water arena. She is currently a Senior Fellow for Climate Adaptation and Environmental Policy at the William S. Boyd School of Law and Practitioner in Residence for the Saltman Center for Conflict Resolution. She established the consulting firm of Sustainable Strategies which assists both governments and corporations address difficult water resource problems. She has served on the Global Agenda Council for Water at the World Economic Forum and worked with World Bank in China developing national water resource strategies in a rapidly developing part of the world. Outside the water sector she has served on the Nevada Gaming Commission and currently serves as a member of the Wynn Resorts Board of Directors.
During her 45 years in Southern Nevada, Pat has been extremely active in the community, serving on the Board of Regents for Bishop Gorman High School and the Boards of KNPR, the Desert Research Institute Foundation, Keep Memory Alive, and Catholic Charities.
For her work both professionally and in the community she has received various honors and recognitions for her professional and philanthropic work. Over the years she was awarded the Distinguished Nevadan award by the Board of Regents, the Humanitarian Award from the National Jewish Medical Center, Knight of the Gael by Bishop Gorman High School, Education Hero by the Public Education Foundation, the Lifetime Achievement Award from the Urban Water Institute, inducted into the Nevada Business Hall of Fame and named the Most Influential Southern Nevadan by InBusiness Las Vegas.
While she is extremely proud of the work she has done, she considers her family her highest priority. She and her husband Robert have two wonderful children, Ryan and Kelley and she is the proud grandmother of two adorable grandchildren, Spencer and Corbin, whom she spoils uncompromisingly.
Pat is extremely grateful that fate brought her to Las Vegas in 1974 and that she has been able to enjoy such a rich and rewarding life. For her Las Vegas will always be one of this country's greatest urban centers and its citizens among the most creative, progressive and resilient.
Event Sponsors
Thank you to each of our generous sponsors! Our impact in the community would not be possible without your support of our mission. Interested in becoming a sponsor? Click here.
Supporting Sponsor | Diamond Sponsor
Ruby Sponsor
Sapphire Sponsor