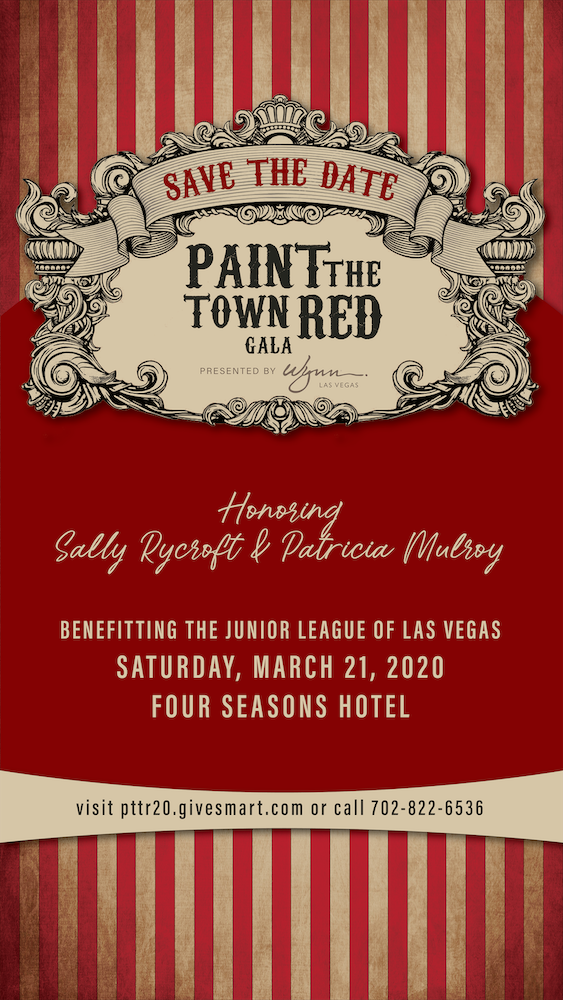 You're Invited to Junior League of Las Vegas' 17th annual
Paint the Town Red Gala! – PLANNING for 2020 –
As our largest fundraiser of the year, your support goes back into the community, funding JLLV programs like HELP of Southern Nevada's Shannon West Homeless Youth Center, Immunize Nevada and Discovery Children's Museum.
The Junior League of Las Vegas will host its 17th annual fundraising gala at the Four Season Las Vegas on Saturday, March 21, 2020. This year, we will honor Sally Rycroft as the recipient of the Lifetime Community Achievement Award and Pat Mulroy as the recipient of the Florence Lee Jones Humanitarian Award. We are thrilled to recognize the outstanding contributions each honoree has made to our community.
Tickets are just $300
Tickets and table sponsorships to this unforgettable evening are available HERE.
To buy tickets:  Click "Buy Ticket" > fill out info > checkout 
To become an event sponsor, click here.
More details to follow.
2019's AWARD RECIPIENTS
Helen Foley – Lifetime Community Achievement Award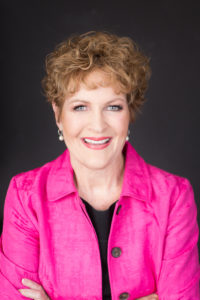 A fourth-generation Nevadan, Helen Foley was born with politics in her blood.  The Foley family is known as the State's first family of the legal profession.  In fact, Foleys served in public office in Nevada for 92 consecutive years. From federal and state judges to attorney general, district attorneys, university regent, and state senators, the Foleys have always stepped up and given back to the community.
Helen's career began in Washington, D.C. working for Senator Howard Cannon and then the U.S. Senate Rules Committee.  Upon her return to Las Vegas, she successfully ran the campaign for the first woman elected to the judiciary in Nevada – Miriam Shearing.   After working for Congressman Jim Santini, she won a seat in the Nevada State Assembly at the age of 26. During her freshman year, Helen successfully championed Nevada's first domestic violence centers funding bill in the Assembly.  After a two-year stint, she ran for the State Senate and won.  At that time, there were only two women in the Senate, Helen and Sue Wagner from the north.
Major accomplishments include authoring a bill to require insurance companies to cover reconstructive surgery after mastectomies.  This was a full 10 years before the federal act was passed.  She also sponsored the law that banned the solicitation or acceptance of campaign contributions during a legislative session.  On behalf of Gov. Richard Bryan, she sponsored a cooling-off bill banning members of the Gaming Control Board and Commission from employment in the gaming industry for one year after their public service. Another significant achievement was the successful passage of an amendment co-sponsored with Senator Wagner to open up banking in Nevada to allow federal banks such as Citibank and Bank of America into our market.
In 1986 Helen ran for Congress and lost by 1142 votes, but who's counting?  Her memorable slogan was Give 'Em Helen!! This idea was created by our own Dedee Nave.  After brushing herself off, she worked at the City of Las Vegas heading up the creation of the Downtown Redevelopment Agency.  In 1998, she formed Faiss Foley Warren, a public relations and government affairs firm, with partners Linda Faiss and Melissa Warren.  FFW, with a staff of 20, is a women-owned firm serving blue chip companies such as Cox Communications, the Howard Hughes Corporation, the Southern Nevada Water Authority, the Regional Transportation Commission, T-Mobile USA and many others.
Helen serves as a lobbyist during the legislative sessions and continues to advocate for many issues dear to Junior League.  A crowning achievement was when she spearheaded the successful ballot question to ban smoking in all restaurants, grocery and convenience stores.  She also provides advice and counsel to the Public Affairs and Advocacy Committee as a sustaining advisor.
Her colleagues at the Legislature honored her as a member of the Lobbyist Hall of Fame.  Other achievements include the Boys and Girls Clubs of Las Vegas Hometown Hero Award, the Rape Crisis Center Denim Day Hero, Makers Award from the Women's Research institute of Nevada at UNLV, and One of the Most Influential Businesswomen in Southern Nevada by In Business Las Vegas.
A legacy member of Junior League, Helen's mother, Betty, joined the Service League of Las Vegas in 1957. As a child, Helen helped paint Fantasy Park, tagged clothing at the Thrift Shop, passed out candy at the Blind Center and helped make flowers for Under the Yum-Yum Tree Gala.  She joined Junior Service League in the 7th Grade. In 1980, she officially joined the Junior League of Las Vegas.  As an active, Helen co-chaired the Gold Rush Gala in 1990 that was the predecessor to Paint the Town Red. She received the coveted Heart of Gold Award. The lifelong friendships she has made with Junior League members are precious to her.  She especially enjoys the Sustainer Trips around the country.
Always a political junkie, Helen has served as part of the production team for every Democratic National Convention since 1988 and most recently as Director of Backstage Operations in 2016.
In her late 40s, Helen decided to adopt two babies as a single mother.  Grace and William are now teens and are the greatest sources of joy and fulfillment in her very blessed life.
Nancy Houssels – Florence Lee Jones Humanitarian Award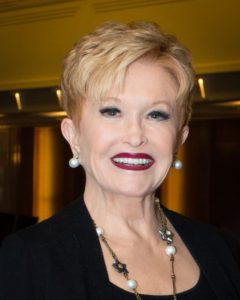 Born in Piedmont, California, Nancy began dancing at age three.  After graduating from UCLA with a BA degree in Theater Arts, she performed worldwide in theater and television as part of the famed dance team, "Szony & Claire" with partner Francois Szony.  The duo appeared several times on the Ed Sullivan and Hollywood Palace television shows and performed at the London Palladium, Radio City Music Hall, and the Latin Quarter, among numerous venues throughout the world.
Szony & Claire first appeared in Las Vegas in 1966 in the Casino de Paris show at the Dunes Hotel.  They returned to Las Vegas in 1968 as the closing act in the Folies Bergere at the Tropicana Hotel. Nancy retired and married J. Kell Houssels, then President of the Tropicana, Chairman of the Showboat Hotel and Vice-President of the Union Plaza Hotel.  In 1972, she co-founded Nevada Dance Theatre (now Nevada Ballet Theatre) with Vassili Sulich and to this day, remains the driving force as Co-Chair of the Board of Trustees.
Although Nancy was no longer performing, she extended her career by working in the community, becoming involved with the arts and children.  She has received numerous accolades including  the Governor's Art's Award for Distinguished Service to the Arts, the Jameson Philanthropic Achievement Award, Chamber of Commerce Women of Achievement Award, the Chris Schallert Award from WE CAN for abused and abandoned children among many others.  She has served on a diverse number of Boards such as the UNLV Foundation, the Meadows School, as Chair of the Nevada Arts Council, Bank of Commerce, Children's Service Guild and The Smith Center for the Performing Arts.
Nancy's dream of a world-class performing arts center in Las Vegas and a state-of-the-art performance home for the ballet has now become a reality with the opening of The Smith Center for the Performing Arts in 2012.
Nancy was a devoted wife to her husband Kell for 46 years.  She continues to cherish her children, Kelly, Eric and Josh and her 7 grandchildren.  Also, she has dedicated a great deal of time in the last forty years to breeding and raising Great Dane dogs.
2019's Event Sponsors
Thank you to each of our generous sponsors! Our impact in the community would not be possible without your support of our mission. Interested in becoming a sponsor? Click here.
Supporting Sponsor | $5,000
Junior Sponsor | $3,500