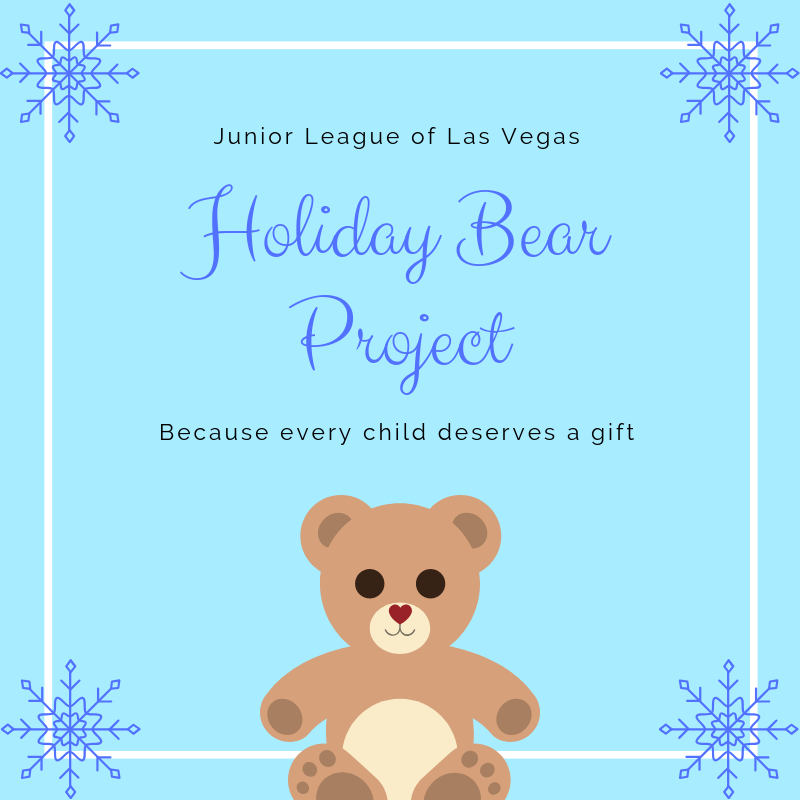 The "Adopt-A-Bear" (now Holiday Bear) Project was created in 1987 because the members of JLLV believed that no child should go without the wonder and magic of receiving gifts on Christmas morning. Now, more than ever, the Las Vegas community is in need of help over the holiday season.
Each fall, JLLV selects three at-risk schools to partner with through the Clark County School District, and school administrators identify which students are the most in need of a little Christmas magic. Then our volunteers go to the schools and personally interview and measure hundreds of Las Vegas children to find out their proper clothing and shoe sizes, favorite colors and holiday wishes. Our volunteers often note that some of the children selected don't have a pair of sneakers that fit them properly, a warm winter coat, or a book of their own to read at home. Each child then becomes a "bear" who is "adopted" by Junior League members and their friends for the holiday season. The members receive a list of items to fulfill the wishes and needs for their "bear".  The presents are wrapped, tagged, bagged and then at an appointed time delivered to the child's parents at the individual schools for them to put under the tree on Christmas morning. Each child receives ten wrapped gifts of new items from Santa, including a pair of pants, a shirt, a jacket or sweatshirt, a pair of shoes, 6 pairs each of underwear and socks, pajamas, two toys, and an age-appropriate book.
Members bring their Bear gifts to JLLV's annual Holiday Coffee – a chance to see our impact and celebrate the holidays with fellow members. More than 100,000 gifts have been given to 9,000+ underprivileged Las Vegas children by the Junior League of Las Vegas through the Holiday Bear Project. We are thrilled to continue this beloved tradition year after year!