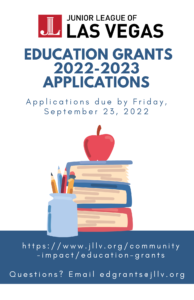 The Junior League of Las Vegas Grant Applications for the 2022 – 2023 year are now OPEN! Fill out form HERE.
For more than 30 years, the Junior League of Las Vegas has funded education grants benefiting students in classrooms throughout Southern Nevada.
Applications are due on Friday, September 23, 2022.
Grant Submission Criteria:
1. The school must be an accredited Nevada institution, with K-12 accreditation.
2. Grant funds are NOT available for the following: Purchase of food, field trips, to fund a larger project, to pay speakers, substitute teachers, conference fees, continuing education units, or to pay teachers an hourly fee for implementing their grant.
3. The proposed project must be completed by Friday, April 14, 2023.
4. Grant requests may not exceed $1,500 for 6th-12th grades and $1,000 for K-5th grades.
5. Funds must be spent by March 17, 2023. Teachers will be required to submit original receipts to the Junior League confirming grant expenses. Any unused funds must be returned to the Junior League (by check) no later than April 7, 2023.
6. One grant submission per educator (teacher, facilitator, counselor, administrator, etc.) is allowed. An educator is not allowed to submit multiple grant proposals for different projects.
7. Educators from the same school may not submit duplicate grant proposals for the same project.
8. If multiple applications are received for the same project from educators at the same school, only the first grant received (by date of submission) will be entered for consideration.
9. If the application or proposal does not meet the requirements or is incomplete, the Junior League of Las Vegas reserves the right to remove the application from consideration.
10. In the event you have submitted the same project for a grant with another organization and you are awarded the other organization's grant first, please decline JLLV funds, so we may fund a different project in the community.
11. Only submissions made through this form will be accepted.
12.  Submissions that include hyperlinks will not be accepted.
Some previously funded project topics include:
-Girls in Competitive Robotics
-Small Instruments for Small Hands
-Book Buddy Bags 2.0
-Drama Lighting
Questions? Email edgrants@jllv.org