Winter Wonderland Bar Crawl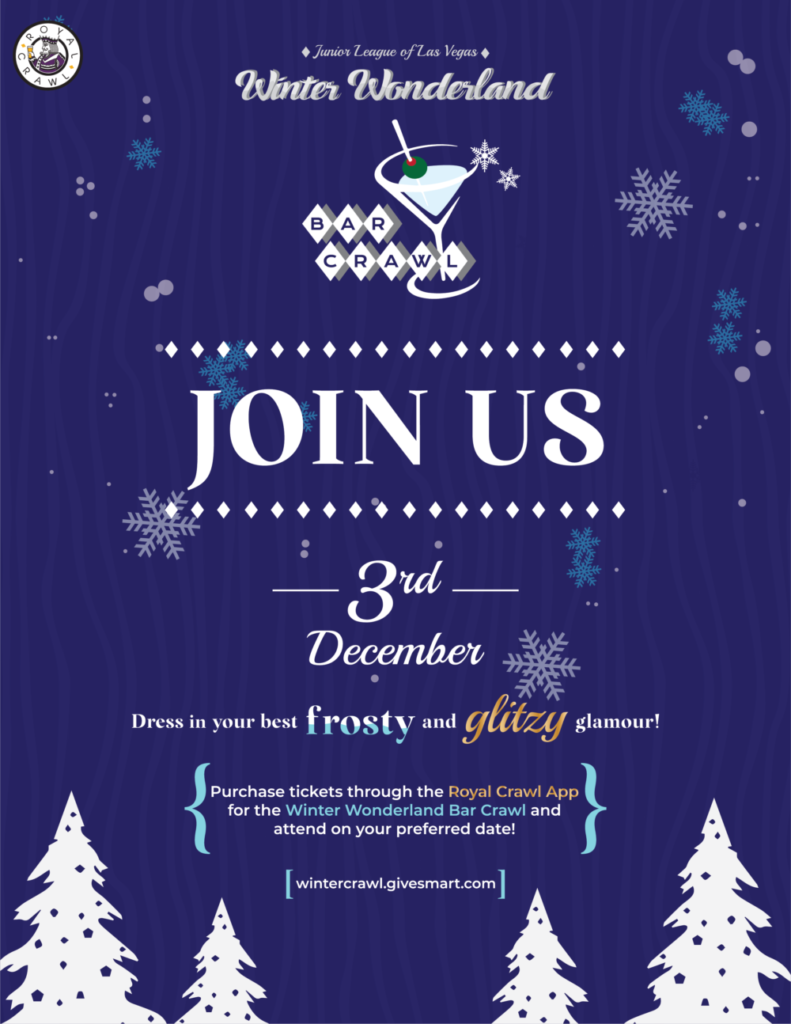 Join us for a Winter Wonderland Bar Crawl on December 3, 2022. Dress in your frosty and glitzy glamour! Get your tickets at www.wintercrawl.givesmart.com
How Do I Buy Tickets? 
Click here to download the Royal Crawl app and select December 2nd, 3rd or 4th! You can even gift them to a friend. Use promo code JLLV40 for 40% off general admission tickets! 
What time can I start? 
Your ticket is valid from 11:00 AM – 11:00 PM on whichever day you select! You can start anytime after noon but must redeem your last drink before 11:00 PM on your ticketed day. Tickets do not role over from day to day. But if you had a blast, crawl twice!! 
So I can go all weekend? 
Yep! While Saturday night is the main event, JLLV will receive proceeds for any tickets sold from December 2nd-4th! Remember though, tickets are valid for ONLY the day you select! 
How do I win? 
You will receive a virtual playing card at each stop! Winners will be announced at 11:00 PM each night on the Royal Crawl app. 
Do I need to understand poker to play? 
Not at all! Drink, relax, have a great time! The bartenders will help you redeem cards and the app will let you know if you're a big winner! 
Do I have to be present to win? 
Nope! The app will alert you if you win. Arrangements can be made to pick up your prize or have it emailed to you. 
Can I pay by cash or check? 
Absolutely! Email specialevents@jllv.org and we'll be happy to help! 
This would be fun for my whole office! Can i share that promo code with anyone? 
Yes! Friends, neighbors, co-workers, your mom, your stylist … invite them all! JLLV40 can be used for 40% off by anyone!! 
What if I have more questions? Email specialevents@jllv.org !