Voluntarism During a National Crisis
It is National Volunteer Week and The Junior League of Las Vegas celebrate the impact of volunteer service and the ability of our members – all volunteers – to build a stronger community.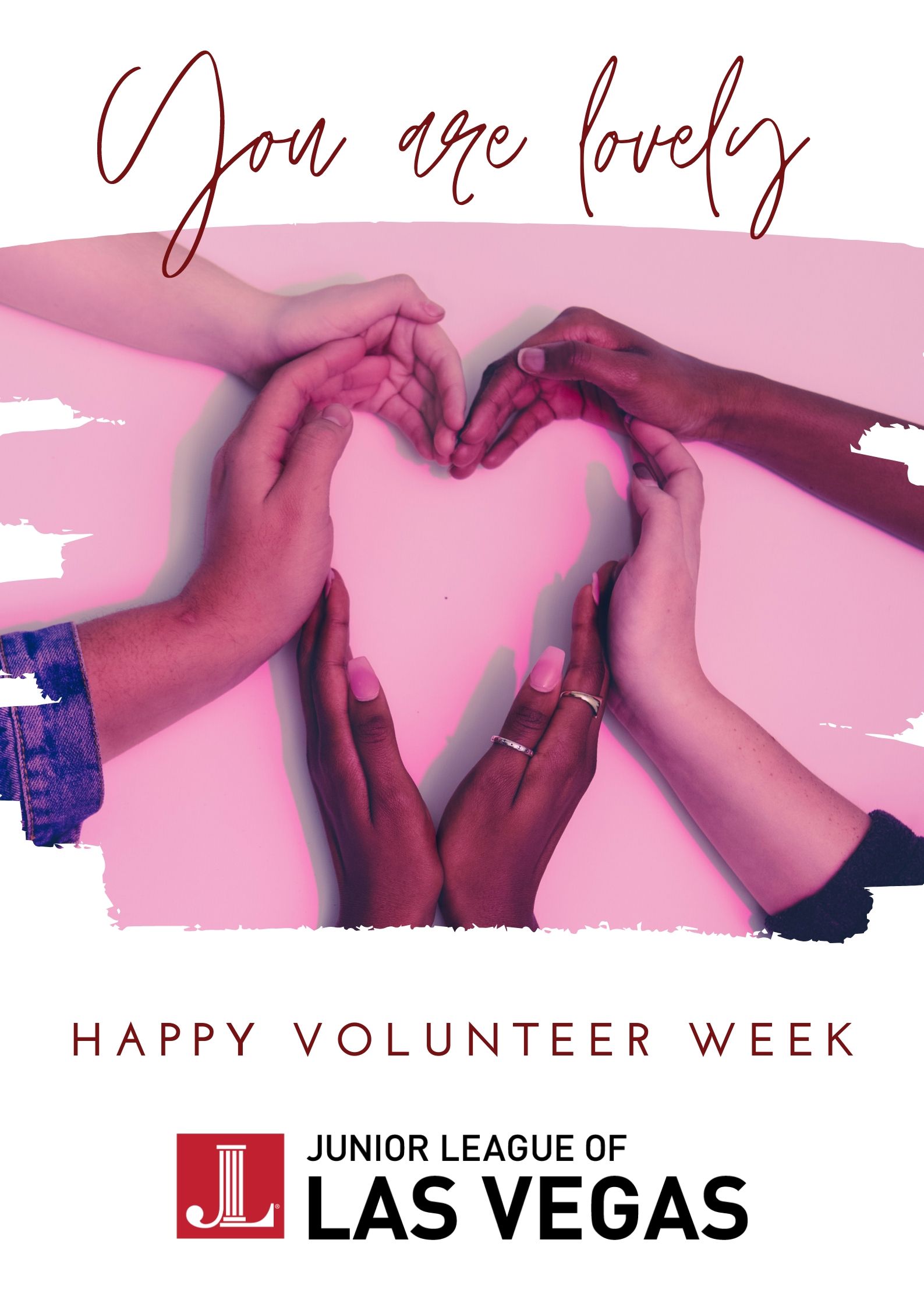 Civic leadership, community, service, empowerment, diversity, collaboration and respect are our values and each is reflected in the efforts of JLLV volunteers every day even in the most challenging circumstances.  I am uplifted by the
brave and selfless work of JLLV members whose civic-minded efforts are making real change. They also continue to do this even when t
hey feel overwhelmed by everything going on right now because no one is alone in that feeling.
The COVID-19 pandemic continues to shake our lives, our community, and our neighbors around the world.  Our daily life is anything but smooth sailing, but the truth is that we are all in this together.  We want to help as well as protect ourselves, our loved ones, and the Southern Nevada community where we live and work. We have seen that a single act of compassion, a good deed, or an effort to help our neighbors can have
an outstanding ripple effect.
Engaged but Safe and Socially Distant
In the wake of stay-at-home orders and social distancing guidelines, our typical means of engagement and connection have changed.  The issues and challenges plaguing our communities have not slowed. Hard work, generosity, and the spirit of voluntarism are needed more than ever as we navigate these fluid circumstances and the uncharted waters ahead.
With adjustments made for the safety of our members, JLLV is continuing to support the importance of voluntarism in times of unrest. We continue to support our community's basic needs, provide valuable community resources and partnerships, promote education, and boost member and community morale.
Inspired By JLLV Members Working to Meet the Community's Needs
Our work has not stopped. Our community is still struggling to access essential resources, including food, personal protective equipment, and feminine hygiene products. Our committees are working hard to help collect and distribute these important and lifesaving basic necessities with and to our community partners. In this challenging time, we will continue to support the food drives and distribution in partnership with JustOne and Three Square Food Pantry, as well numerous other partners.  Now more than ever, food isn't the only scarce resource, and our members have held drives for feminine hygiene products, student resources, and have even sewed face coverings to share with those that need them. I am amazed by everything they are doing to support our neighbors, our community and our partners.
Please note that if and when our JLLV members contribute their time to local volunteering opportunities, we encourage them to take all precautions to protect themselves, and whenever possible, to take part in virtual fundraisers and other contact-free community support and advocacy events. 
Supporting our Educators
The end of this school year has changed every student, parent and teacher's daily life.  Because of the twists and turns of this year's school closures, we understand that our educators may need more resources than ever as they prepare for next school year.  We want to support the teachers and students that need it the most when much-needed resources may be stripped away in the coming year.  One grant to one teacher doesn't just help one individual, but classrooms overflowing with students. We have seen first hand that our educators are invaluable and do amazing things for the children that shape our future.  In response to the crisis, we are getting our Education Grants application out to teachers by May 1 so they can prepare for the upcoming year.  We want to support as many teachers and programs as possible and give them the time they need to participate.
Our Altruistic Members
The hard work of JLLV simply wouldn't be possible without the passion of our members that commit their time and energy to bettering our community.  Without the strength, effort and unwavering commitment to voluntarism, the inspiring and impactful work done by JLLV Members would come to a halt.  For that reason, our members are a top priority, especially as we are rocked by COVID-19. Our members have been emotionally, financially, and physically impacted.  Some have lost jobs – temporarily and permanently.  Some have taken pay cuts.  Some are working non-stop exhausting hours as healthcare and other essential workers.  Some work from home while teaching and caring for their children.  Each member has her own challenges in this time of isolation and it can be overwhelming.  However, we are also taking important measures to build and maintain morale by being creative in how we connect, support and empower each other.  It is both heartening and inspiring to know that our members are not only caring for the community, but caring for each other on a daily basis.
The impact of our members and their volunteer work can never truly be summarized, but it deserves to be celebrated.  During this National Volunteer Week – but also in each and every week – JLLV honors our members and the work they continue to do!
JLLV Members are unstoppable!!
Erica Chee
2019 – 2020 President