Saddle Up, Space Cowboys! Join the VIP Reception and Charity Bar Crawl Extravaganza!
Howdy, space-faring trailblazers! Get ready to embark on a galactic adventure like no other.  The cosmic vibes are calling, and you're invited to the VIP Reception before the electrifying Space Cowboy Charity Bar Crawl.
Date: Saturday, October 7th
Time: 4:00 PM – 6:00 PM
Location: Circa Resort and Casino
Tickets: $100 per person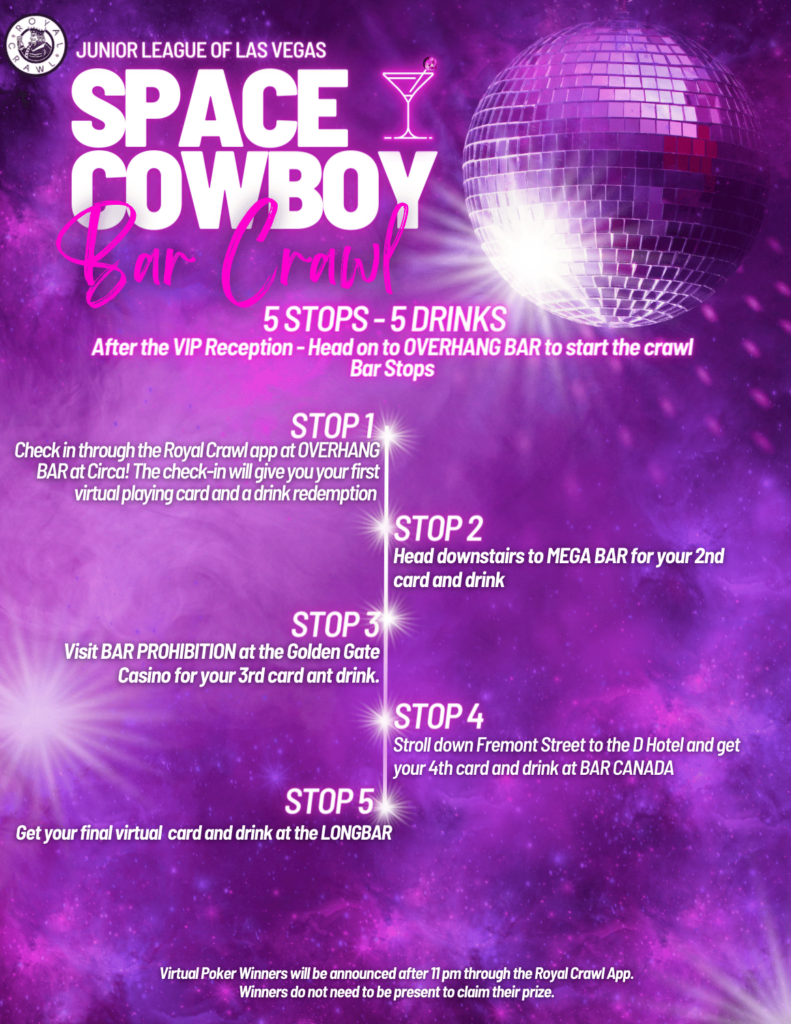 Step into the world of interstellar style and help us make a difference while having a blast! Here's what's in store for our VIP guests:
Exclusive VIP Raffle: Only available at the VIP Reception is the out-of-this-world VIP Raffle with exclusive prizes that will have you over the moon! The opportunity for you to purchase raffle tickets for the chance to win a Waldorf Astoria Spa Package or a foursome at TPC Summerlin, you won't want to miss your chance to win big!
Unforgettable Space Cowboy Experience: Be the star of the show as you don your finest space cowboy attire. Whether you're channeling your inner Captain Kirk or riding like a space wrangler, your unique look is your ticket to the ultimate space adventure.
Complimentary Bar Crawl Ticket: Your VIP ticket, priced at just $100, includes access to both the VIP Reception and the Charity Bar Crawl. Sip on intergalactic concoctions, sample cosmic cuisine, and dance the night away as we hop from one space-themed venue to another.
Supporting a Stellar Cause: Beyond the glitz and glamour, this event has heart. A portion of the proceeds will go towards the Junior League of Las Vegas(JLLV), a charity that's as vast as the universe itself. Your participation ensures that we're not only having a blast, but making a positive impact too.
Get Your VIP Ticket: Secure your spot among the elite space cowboys by grabbing your VIP ticket today. Remember, there's only a limited number available, so don't let this opportunity slip through a wormhole!
Are you ready to shoot for the stars and have a rootin' tootin' good time? Dust off your space boots, grab your laser pistols, and prepare for an evening of spacefaring adventure that's guaranteed to leave you starstruck.
Yeehaw, space explorers! See you at the VIP Reception on October 7th!
GENERAL ADMISSION TICKETS
Can't make the VIP Reception? You can still crawl with us!
Get your general bar crawl ticket by following the steps below:
Download the Royal Crawl App
Use promo code JLLV40 for 40% off
Offer valid Saturday, October 7th
FAQs 
1. Are there two events happening on October 7th?
Yes and no. We are hosting an event within an event! You can purchase tickets to participate in the Bar Crawl ONLY or you can register for VIP Reception with includes a 2 hour reception as well as the Bar Crawl Ticket. 
2. How Do I Buy Tickets? 
If you wish to attend the VIP Reception which includes your Bar Crawl Ticket look no further purchase your ticket below. If you are wishing to purchase the BAR CRAWL ONLY click here to download the Royal Crawl app and select Saturday, October 7, 2023! You can even gift them to a friend. Use promo code JLLV40 for 40% off general admission tickets! 
3. What time can I start? 
Your Bar Crawl ticket is valid from 11:00 AM – 11:00 PM on Saturday, October 7th! You can start anytime after 11 AM but must redeem your last drink before 11:00 PM. Tickets do not role over from day to day. The VIP Reception will be from 4 – 6 PM.
4. How do I win prizes? 
You will receive a virtual playing card at each stop! Winners will be announced a little after 11:00 PM on the Royal Crawl app.
The VIP Reception will have an exclusive raffle available for only those that attend the reception. Raffle tickets will be for sale  during the reception and winners will be selected that night and must be present to win.
5. Do I need to understand poker to play? 
Not at all! Drink, relax, have a great time! The bartenders will help you redeem cards and the app will let you know if you're a big winner! 
6. Do I have to be present to win? 
Nope! Not for the Royal Crawl prizes the app will alert you if you win. Arrangements can be made to pick up your prize or have it emailed to you. 
For the VIP Raffle you must be present at the reception. 
7. Can I pay by cash or check? 
Absolutely! Email specialevents@jllv.org and we'll be happy to help! 
8. This would be fun for my whole office or friend group! Can I share that promo code with anyone? 
Yes! Friends, neighbors, co-workers, your mom, your stylist … invite them all! JLLV40 can be used for 40% off by anyone!! 
9. What if I have more questions? 
Email specialevents@jllv.org