JLLV Recognizes its 2019 Outstanding Members
Each year, Junior League of Las Vegas recognizes a few of its own during our annual May Luncheon with awards for those who make a significant impact on the organization. This year, we recognized four outstanding members, and our honorary 'Man of the Year.' See more on the deserving honorees, pictured with our 2018-2019 President, Dalisa Cooper, below.
Heart of Gold Award – Carrie Stamps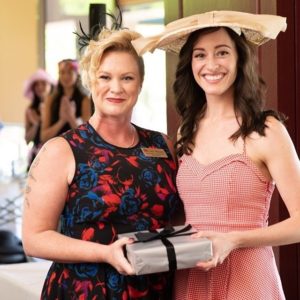 The Heart of Gold Award is awarded to a member who consistently goes above and beyond for JLLV.
Carrie Stamps may truly have a heart of gold. It's easy to characterize her as kind, sincere, genuine and incredibly talented. The patience that she exudes is consistent and notable. She is often found helping other committees outside of her own so much that other members usually cannot recall what committee she is actually placed on.  She steps up to tasks without complaint or resistance, and she can almost always be found doing so with a sweet, soft smile. She has already co-chaired one of our largest fundraisers – committing to the time and rigor with pure poise and grace. even during the most challenging times.
Perhaps that was no competition to the endurance that it took the year she co-chaired what was considered one of our largest operations committees at the time, Communications. She continuously shares her talent in graphic design with not only the committee that she may or may not reside on, but across multiple committees and pretty much all councils. Dedication and strength is no stranger to this gentle soul, one of the most dedicated members we know. Congrats Carrie!
First Year Active Award – Amber Salcido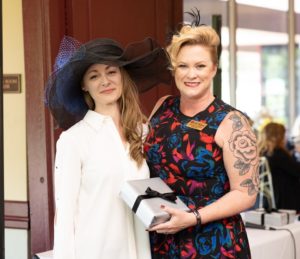 The First Year Active Award is awarded to a first-year member who shows great initiative and passion for JLLV in her first active year. 
Despite some initial bumps in the road, Amber Salcido took the time to learn, consider, and she did not give up. She set out in her first active year as a member on the Shannon West Homeless Youth Center committee. She was ready to work hard and lend her skills and time to this ever-growing partnership. It wasn't even by the summer end that she took the initiative to lead on a meal prep shift. Because her energy is contagious, soon to follow were others taking note and reporting on her superwoman qualities.
Amber stepped into the leadership role on multiple occasions within her committee in this first year of training, as well as outside when she joined other shifts – each time with the same positive energy and commitment to seeing the task through. She excelled, and continues to excel today. As if learning the ropes of being an active member, and learning the ins and outs of JLLV in general wasn't enough, she has also committed to co-chairing the Shannon West Homeless Youth Center committee next year, a huge job, for which she is dedicated and capable. She's kind, thoughtful, friendly and accepting of everyone. Congrats Amber!
Provisional of the Year Award – Colleen Hoskins
The Provisional of the Year Award is awarded to provisional (new) member who demonstrates great dedication to JLLV. 
Colleen Hoskins has gone above and beyond in her provisional class, and has embodied the Junior League spirit the entire year. She was nominated by several members of her provisional class, and we are all able to see her passion as well. The nominations all had similar mentions – that Colleen stepped up to fill almost every role when it came to the provisional's end-of-year project, and worked as a great communicator across all the different subcommittees to ensure the event was smooth and a major success. In addition to her work on the project, Colleen dove headfirst into her volunteer work with JLLV, completing over 50 hours in her provisional year. Congrats Colleen! 
Sustainer of the Year Award – Lois Zellers
The Sustainer of the Year Award is awarded to a sustaining member who continues to give her time and efforts to impact JLLV and our community.
Lois Zellers has been active in JLLV for several decades. Lois is recognized as a pioneer and founding member of our annual Holiday Bear Project, through which underprivileged youth across the Las Vegas Valley receive holiday gifts and essential items, like socks and coats. She has worked on this project since its inception, more than 30 years ago, ensuring that in that time, thousands of children in Las Vegas would have a gift to open during the holiday season.
Lois has also served on the Sustainer Board of Directors, serving as the Sustainer President from 1985-1986. Her dedication to our League is admired and inspires our members to stay involved well past their active tenure. We thank you, Lois, for your dedication!
Man of the Year Award – Kevin Smith
The Man of the Year Award is awarded to a man involved in and dedicated to the success of JLLV.
Kevin Smith is a man that many of you know well and have spent a considerable amount of time with over the last four years. This gentleman is found at every single high school enrolled in our Fashion Forward program. Kevin starts his "League year" in the summer by attending our teacher meeting and visits every school and every class throughout the process. It's nearly impossible to visit a school as a mentor or judge without witnessing Kevin there cheering on these students, giving his best advice and lifting the spirits of students, teachers and our very own volunteers.
Despite the second job that Kevin has in addition to running his own Trade and Fashion Academy, Kevin somehow finds the time to dedicate his talents and energy to the students of Fashion Forward. We are so thankful to have his support and knowledge, and although he can't be an official JLLV member, we welcome his honorary membership hope he will continue to partner with us