HOLIDAY SHOPPING & BRUNCH AT DILLARD'S

Dillard's and Junior League of Las Vegas have partnered to bring you the ultimate shopping event to kick off the season!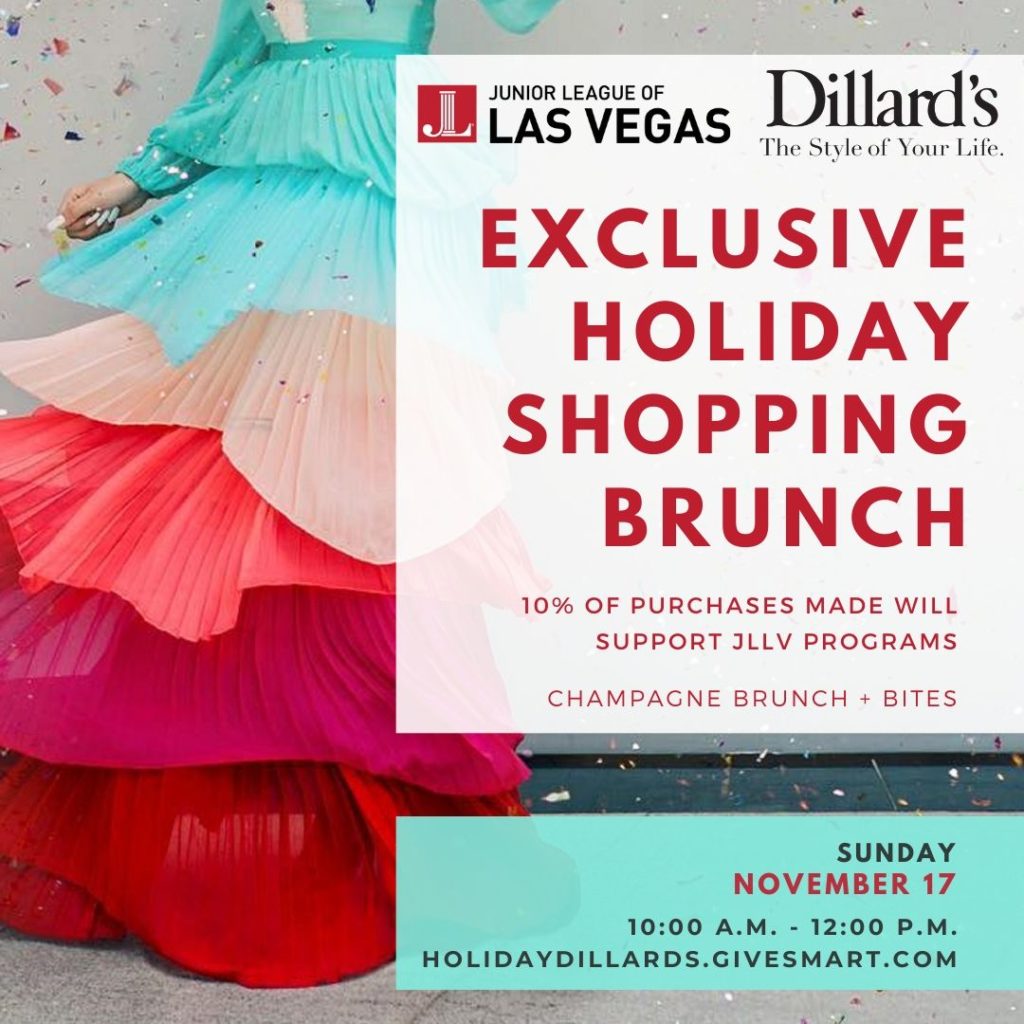 Your $35 ticket will include the following:
Private Shopping – only ticket holders will have access to the store before normal business hours.
Brunch Bites – including a waffle bar!
Champagne
$20 Dillard's Gift Card – you'll receive this when you check-in for the event and can be used any time.
Free Ground Shipping – take care of your holiday shopping since you can ship anywhere in the US.
Free Gift Wrap – let the elves do the work for you!
Shopping Experts – store will have retail experts on hand to help you shop.
Donations – 10% of all purchases will be donated to support JLLV programs!
Need more than two hours to shop? Don't worry! You can shop at Dillard's all day on Sunday, November 17 and check out at Customer Service to make sure your purchase counts toward the discount.
Can't make Sunday, November 17? Shop at the Dillard's at Fashion Show from November 11-16 and take your purchase to Customer Service. It will be processed on November 17 for the donation and can be shipped for free or picked up at your convenience.
Who can attend? Anyone looking to get a jump start on holiday shopping while helping their favorite charity. Or someone who likes to drink and shop. Or friends and family. Really anyone and everyone who is over 21!
Day of tickets may be available if the event doesn't sell out.
EVENT DETAILS
AGE: Friends and Family are welcome to join this 21 and older event
ADMISSION: Tickets are $35 each and you'll receive a $20 Dillard's gift card
BUY YOUR TICKETS HERE! HolidayDillards.givesmart.com
LOCATION: Dillard's at the Fashion Show Mall: 3200 S Las Vegas Blvd, Las Vegas, NV 89109