JLLV's Healthy Futures committee is a partnership with Immunize Nevada to raise youth immunization rates in the Las Vegas Valley. Studies prove that immunizations improve student health and keep kids in classrooms. Certain immunizations are also required by law for school and child care facilities. Our aim is to make immunizations more accessible to everyone, especially students in at-risk schools.
The committee also works with other health and wellness-focused organizations in Las Vegas, including providing volunteers for various wellness events across the city, including the Healthy Kids Festival and other child-focused health preparedness events, like immunization drives and dental clinics.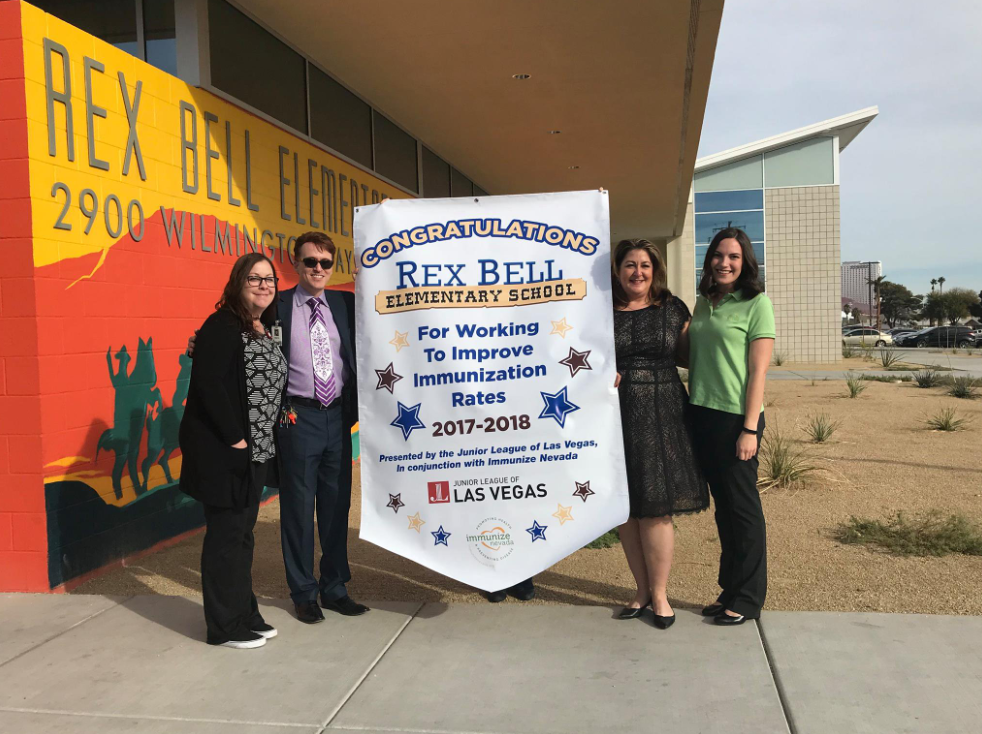 Healthy Futures updates – 2017-2018 League Year
The Junior League of Las Vegas Healthy Futures Committee granted $15,000 to Immunize Nevada to offer three partnership awards to Rex Bell Elementary, Thiriot Elementary and Desert Pines High School. The new school-based project was a joint effort between the two nonprofit organizations to help schools in the Clark County School District raise immunization rates to or above 94% – the optimal vaccination rate to keep students healthy. Funding was used to host immunization clinics with fun themes, which were designed to encourage parents and students to participate in the clinic and receive free immunizations. Southern Nevada Health District was instrumental in providing free immunizations at these clinics.
Healthy Futures also collaborated in the spring with Immunize Nevada, the Southern Nevada Health District and Health Plan of Nevada to throw Baby Bash, a community baby shower. The event coincided with National Infant Immunization Week (NIIW). Free health services made available included dental exams, eye screenings, and immunizations for infants, young children and parents. In an effort to embrace the League's new focus area, targeted outreach was aimed at young first-time moms. With generous donations from membership, the committee put together care packages with mom and baby necessities and distributed them at the event.