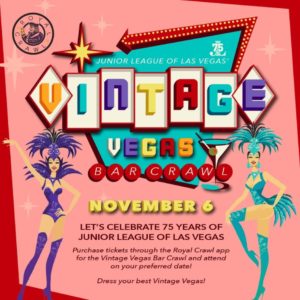 Past Event
On the weekend of November 6th, 2021, we will celebrate 75 years of service to the Las Vegas Community with a Vintage Vegas Pub Crawl! 5 stops, 5 drinks and 5 exciting experiences will be included in this night of fun and celebration!
In true Vegas fashion, at each stop you will receive a playing card on your event app. At the end of the night, best poker hands win! The weekend will include over $3,000 in prizes!
Attend the Crawl anytime from Friday November 5th – Sunday November 7th, 12pm-
10pm, and JLLV will receive $20.00 per ticket! Want to upgrade your experience? Join us for a night filled with special surprises on Saturday, November 6th!