The beautiful and historic Morelli House serves as the Junior League of Las Vegas headquarters, and with the help of JLLV, lives to give locals and tourists alike a taste of old Vegas.
About the Morelli House
Antonio Morelli, original owner and builder of the Morelli House, was the Sands Hotel's orchestra conductor and musical director from 1954 to 1971.  In this position, he came in contact with the top entertainers of the time, including the famous Rat Pack.  It has been reported that singers like Dean Martin, Frank Sinatra, Sammy Davis Jr. and Nat King Cole rehearsed in Morelli's music room at the house.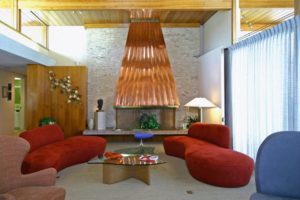 The Morelli House was built in 1959 on the Desert Inn Country Club Estates which overlooked the world-class Desert Inn Golf Course.  The Desert Inn properties were purchased by Steve Wynn in 2000 to make way for his new Wynn Resort on the Las Vegas Strip.  In September 2001, the Junior League of Las Vegas moved the house to Ninth and Bridger Avenues to save it from demolition.  The House is now a community historical cultural resource and the headquarters of the Junior League of Las Vegas.  The move and restoration of the house has been funded with the assistance of the State of Nevada Commission for Cultural Affairs and by generous community and Junior League member support.
The Morelli House is a prime example of mid-century modern residential architecture.  Basically rectangular in plan, the overall appearance of the Morelli House is long and low, melding into the landscape.  The flat roof is covered with crushed white rock, and exposed redwood beams support the widely overhanging eaves.  In several places along the front of the building, walls are covered with stucco and screened with decorative openwork cement blocks that are topped by a row of windows.
Morelli House Tours
Junior League members offer docent-guided tours of the Morelli House to the public on the second Saturday of the month during the months of January through April, and September through November. Tour times are 10:30am and 11:45am, and admission for public tours is $5.00 per person. Reservations are strongly encouraged by contacting morellihouse861@gmail.com.
*Private Tours are also available upon request, and the house is available for use for photo shoots and small meetings. For more information email info@jllv.org or morellihouse861@gmail.com or call 702-882-6536
More Info on the Morelli House Project (Official Site)
To find out more about the Morelli House Project, click HERE for the official site.